SEARMADA Africa Limited is poised to create a futuristic self-sustaining Smart City hinged on applying the innate natural attributes of Ebughu in the Mbo Local Government Area and Environs in such a manner to retain, develop, blend, utilize, embellish and engender and develop the natural endowments to motivate carbon credit status of the city and engender the youth and workforce of the region to profitable developmental causes.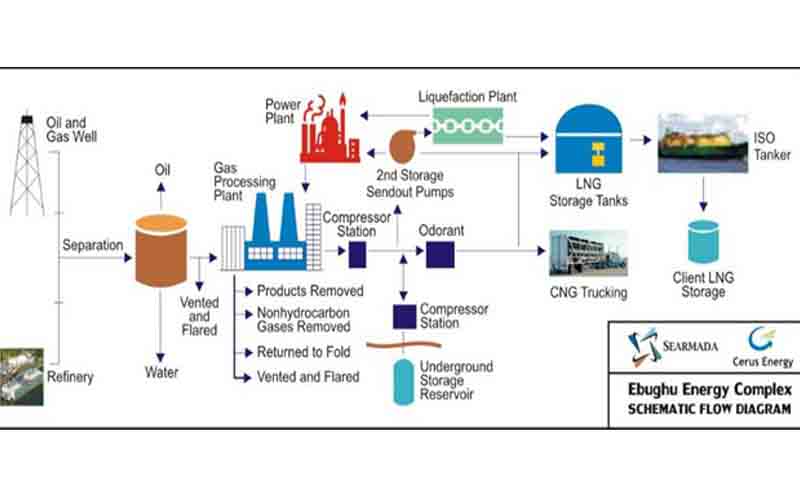 Searmada Africa Limited proposes to Install and operate a 30,000MMScfd Gas Processing Facility to Gather, Process and Treat Gas from 3 main feed sources;
Direct from the Wellhead or
By Pipeline from other On/Offshore wells.
Supply from the Crude oil Processing Facility- Modular Refinery
Cryogenic Gas Processing Facility to be designed and Installed by  the Gallileo Technologies SA
It is a Unique Technology that gathers processes (primary and secondary) to treat the gas and liberate them into the various specifications of NGL, LPG & LNG using the Galilieo Technologies SA model Plant and Technology.
A 30 MMscfd Cryogenic Gas processing unit, will be installed
The plant will be a cryogenic Turboexpander NGL Processing plant, designed to separate Propane and Butane.
The Methane and Ethane, normally flared, will be separated and used as fuel for the Gas Turbines and for liquefaction to LNG.
No flaring will take place at the CPF other than an emergency flare as is required by law.